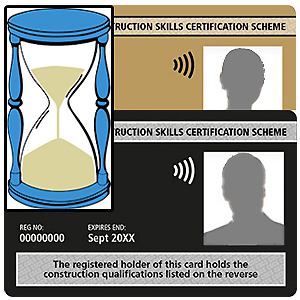 The aim of today's Brick Blog article is to explain the phasing out of Grandfather rights for the renewal of CSCS cards for supervisors and site/project/contracts managers and to highlight that Construction Management NVQs are the solution for ensuring compliance.
Back Story
Grandfather rights, or "acquired rights" as they are also known, are granted when there is a change in legal requirement for a qualification in order to occupy a particular role. In other words, an old rule regarding suitability for a job role continues to apply in some circumstances even though there is a new rule that applies to all new entrants to the same job role.
In the context of the construction industry, Grandfather rights were granted to site supervisors and managers, allowing them to renew their gold and black CSCS cards through Industry Accreditation.
If you're wondering what the term Industry Accreditation means, it's essentially exactly that – the strength of an employer's recommendation as opposed to the achievement of a supervisor's qualification or Construction Management NVQ.
What Happened to Grandfather Rights?
However, Industry Accreditation was rescinded for new CSCS card applicants from January 2010, albeit with the caveat that existing cardholders could still renew their cards as before.
A decade later in January 2020, the Construction Skills Certification Scheme (CSCS) announced that even this concession would be scrapped with immediate effect, meaning that the very last day a CSCS card issued under Grandfather rights is valid for will be 31st December 2024.
Knock-on Effect
The changes come in response to industry tightening up in terms of quantifying competency and being able to demonstrate appropriateness for a job above and beyond how many years of experience you have.
As our previous blog mentioned, this insistence on qualification achievement is part of a 'top-down' approach to quality assurance, risk management and competence management. So much so that demonstrating a fully qualified workforce at tender stage has become one of the major make or break issues for sub-contractors, affecting their ability to win work in the first place.
While traditionalists may argue that gaining an NVQ cannot ever equate to decades of experience running jobs, or even resent their suitability for a management position being called into question, the fact of the matter is that the industry is moving towards a more regulated future and subbies from all trades will need to embrace that.
And, in the short term at least, this means attaining the relevant construction management NVQ before your current CSCS card lapses. If your ticket was last renewed before 31st December 2019, you'll need to get your qualification before 2024 is out, however many will have imminent expiry dates in 2023.
Who is Affected by the Changes?
See below for a list of construction NVQs by CSCS card category, as well as the job roles they are suitable for:
CSCS Gold Cardholders
Level 3 Construction Contracting Operations – for Estimators, Quantity Surveyors, Buyers, Planners, General Contractors and those involved in surveys, work planning and technical sales
Level 3 Occupational Work Supervision – for tradespeople who run gangs of operatives, usually within their own area of occupational competence
Level 4 Construction Site Supervision – for Site Supervisors, Assistant Site Managers and Supervisors overseeing multiple different trades
CSCS Black Cardholders
Level 6 Construction Contracting Operations Management – for Buyers, Planners, Estimators, Quantity Surveyors, Project Managers responsible for a smaller part of the overall project, and Site Managers overseeing smaller/multiple sites
Level 6 Construction Site Management – for Construction Site Managers with authority, accountability and decision-making responsibilities
Level 7 Construction Senior Management – for Project Managers with a wider scope, Contracts Managers, Commercial Managers, Operations Directors, Property and Facilities Managers and Specialist Construction Managers
The ABC Assessment Centre has a specialist supervisory/management NVQ assessor who is able to guide you through your path to compliance step-by-step, ensuring you a quick and efficient completion time for your CSCS card renewal.
To organise your Supervisor and/or Construction Management NVQs in time for your next CSCS renewal, speak to Centre Manager Simon on 07309777959 or request a quote by email to

[email protected]

.