Mick Russell, MPA Mortar Manager, shares his
#YourConstructionStory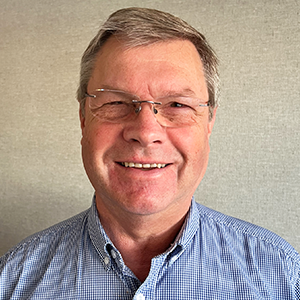 [Much like John Ryan's #YourConstructionStory,] I too started working for my Uncle during school holidays to earn a bit of cash. Uncle was a small jobbing builder in Nuneaton and covered most aspects of the building trade. Obviously, as an unskilled kid I was given the labouring jobs to do, however this didn't bother me as I was earning money and had a taste for it.
When I left school at 15 I couldn't wait to get out there on site. Unfortunately there was no position for me with my Uncle, but armed with a reference from him I found a job with another local jobbing builder. During my time jobbing, the firm put me into college to train as a bricklayer, so I did my CITB apprenticeship with day release, starting in 1976.
More than one career change
A few years pass and my Auntie, who worked at ARC (now Hanson), told me there was a job driving at the quarry. Fancying a change and following my father as a driver, off I went driving a lorry.
Life stopped and flipped on its head after an accident where I lost the sight in one of my eyes. The firm were good enough to keep me on and started me working in the laboratory testing products produced by the quarry. I was trained in concrete technology and tested concrete for many years round the Midlands on various building sites.
In 1985 an opportunity came up in the technical department when ARC started producing mortar, and, armed with my bricklaying experience, I went on to develop and improve the products we were producing. You know, getting the mortar to feel right on the trowel, to perform, to flow smooth like butter!
My experience on the trowel kept me in good stead when visiting sites to see irate bricklayers whose 'compo' was like dog muck and being thrown a trowel and told 'you lay it!'… to which I would often pick the trowel up, calmly hand it back and say 'I'll just get my own trowel out of the van'. This usually calmed the situation for a while!
I moved on to become the sales representative for mortar in the West Midlands, but always kept my trowel in the boot.
Valuable bricks and mortar experience
When Hanson (as ARC became) were investing in a new bagging plant in Nuneaton they considered adding extra silos to the plant to produce dry silo mortar. Once again my experience paid off, as in 2005 I was asked to look at the mortar to produce a quality factory mortar fit for purpose. This took some time to establish the right blend that also gave us the same colour as our 'ready to use' or 'wet' product.
As new boys in the dry mortar area, we needed an extra selling point, and I was determined to give it just that. A while later, I was promoted to Area Sales Manager Midlands with a staff of six reporting directly to me.
Sudden changes
The dry silo and ready to use business went from strength to strength until a decision way above my pay grade decided they would not produce mortar anymore and so my 35 years at the company came to an end in 2012. The following year Hanson sold the brick business to Forterra.
A few years away from the industry (although you never really leave), and I got a job selling mortar for an independent company in Cannock run by a former boss of mine.
In late 2016 I was diagnosed with prostate cancer, life flipped again and was operated on in January 2017. I continued to work, but worked from home (who would have thought that would become a norm in 2020!) but not being able to get out on site was a pain. As it turned out it was more of a pain to go back to work after such a major operation, so I finished in the April to get my body right and fit again… health comes first.
My transition across to the MPA
During my time at Hanson I would attend meetings held by the Mineral Products Association (MPA) at various venues. As a trade body, these meetings were with other companies that produce mortar to discuss product standards and ways of promoting factory produced quality mortars.
I became, and still am, friends with the gentleman that managed those meetings, and he would often call when in my area for a coffee while I was recouping. One such coffee time in late 2017 ended with me being offered a role in MPA to manage the MPA Mortar section of the business. Because of my past experience with mortar and bricklaying they felt I was right for the role……If I wanted it.
"If I wanted it"!? Are you kidding!? To continue working in an industry that I know and love for over 45+ years, with people I have got to know and respect in all those years… too right I wanted it!
So, four years on I'm still at MPA and still love it, a great industry for anybody to be in. Now supporting the new generation of bricklayers where we can with people like the ABC Assessment Centre and NHBC training hubs.
Long may your trowel stay wet.
If you think you could offer some insight into how you started your career in the industry and think it might inspire the next generation of bricklayers, why not send us #YourConstructionStory to

[email protected]