John Ryan, Brickwork Lecturer at Weston College, shares his
#YourConstructionStory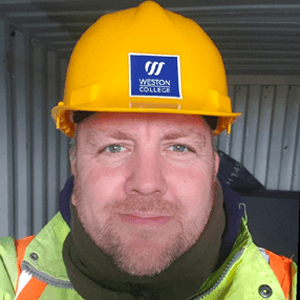 My story or introduction to construction (and especially bricklaying) came at an early age. At just the age of 12 or 13, I was already "helping" my uncle perform renovations to his farmhouse just on the outskirts of Cardiff, where he tasked me to labour for him on plumbing, carpentry, and brickwork.
I plucked up the courage to ask "can I could do some of the blockwork?" as it struck me as something that I thought I'd like to have a go at (he probably had to alter it when I went home!), and from that point on I knew that I wanted to be a Bricklayer!
My next steps
The careers options at my school weren't of any interest to me so I pursued the idea of an apprenticeship with Wimpey. Unfortunately, at that time I wasn't accepted onto the apprenticeship as numbers were too high.
I enrolled onto a YTS Scheme for £35 a week in construction, where I was placed with various local builders in Cardiff and picked up small amounts of knowledge. However, I knew that bricklaying was what I really wanted to do.
I was placed with a small general builder in Cardiff, and he used to subcontract works to various specialised people when doing large scale works. He subbed out an extension to two bricklayers on a property and I was there to labour for them.
My time to shine!
I laboured for them and impressed them with my work ethic and abilities to keep them working alongside my own duties. So, I asked if I could work with them and they agreed (in reality they poached me!). I travelled all over Cardiff and south Wales with them doing domestic work and then onto large commercial/industrial sites labouring for them, being tasked with the jointing up – eventually laying to the line and more as time progressed.
Gaining experience, knowledge, and skills from them, I started doing my own small private works and saw that I had a real aptitude for brickwork, concrete, and paving.
My time as a Bricklayer
Skip forward a few years and I was working on the big developments of Cardiff Bay as an improver/bricklayer. Exciting times as I thought "yes, I've finally made it!".
Over the next few years I was faced with a few bad site experiences involving rouge trades and then had a baby on the way. I took a job in the prison service for a few years as I needed to provide for my family and bring home a steady income. However, all the while I knew that it wasn't what I wanted and that bricklaying was my calling.
Back on the tools and beyond
I returned to site work with friends and came across a barrier: the CSCS card. I arranged to get qualified through OSAT which qualified me and gave me the Blue Skilled Workers Card enabling me to carry on working (best move I've made!). I found that I was looking after the younger lads on site and domestic works as I was able to communicate effectively with them and give information, advice, and guidance. After all, I'd been in their shoes many years before!
I took an opportunity to become an Assessor with a local training provider in Cardiff to deliver on-site assessment and training (OSAT) in Bricklaying. I loved it as I travelled the UK delivering OSAT to bricklayers and shared a workshop with the next generation of tradespeople.
From there I worked as an Assessor and Apprenticeship Master for a few training providers in South Wales and even on Hinkley Point delivering short courses along with OSAT for Groundworks.
Bricklaying has opened lots of doors for me
Bricklaying was my passion as a young boy and still remains to this day. Having the trade has encouraged me to expand on my knowledge and has sent me in the right direction to achieve some great opportunities and qualifications.
Currently I'm lecturing at Weston College in Weston-Super-Mare, delivering bricklaying to 16–19-year-olds at all levels and to adults, along with apprenticeship programmes.
Hopefully over the years I've inspired people to better themselves and learn the best trade in the world! …And all of this journey from a trowel and level!
If you think you could offer some insight into how you started your career in the industry and think it might inspire the next generation of bricklayers, why not send us #YourConstructionStory to

[email protected]