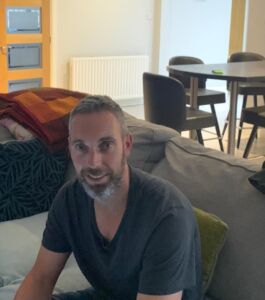 A Bricklayer's Journey
Kevin Flahive, Director at Flahive Brickwork
There was a history of bricklaying in my family with my dad starting out as a brickie before setting up his company about 35 years ago with surveyor Eamonn Duggan. I started working with him on building sites during my summer holidays as a labourer and hod carrier and by my late teens, I left school and started working full-time on site. It was working alongside a bricklayer one day that we saw a quantity surveyor walking around a site and he said that's what I should try and do. To be brutally honest, I had no idea how to go down that route, but I discovered there were many training release schemes for quantity surveyors so I applied to Kier Construction in Rickmansworth. After completing a five-year day release, I became a qualified QS but with my dad's business growing, he offered me a job as a surveyor working with Eamon on the commercial side.  None of this was planned, it just fell into place.
Being a surveyor with Kier to being a surveyor for sub-contractor Flahive is very different. For starters, you must learn about the specifics of measuring brickwork. I then spent the next 5 to 10 years learning everything from a commercial point of view.  While some brickies treated me differently on-site, others who I had previously worked alongside respected the fact I had put the hours in and pushed myself forward. Then when my dad stopped working due to ill health, he was keen to set the company up so I could play a part in running it. I was very much learning on the job from Eamon about everything from bank requisitions to meeting clients.  By 2014, my dad had retired and I took over. Looking back, the commercial education I had at Kier really helped. They paid for me to get the degree while I was working for them. Interestingly, we are now a subcontractor for Kier and so I'm working with people that I worked with 20 years ago. The fact that I started out on site has been a huge benefit, giving me valuable skills that helped me see the build process first-hand.
One of things I'm immensely proud of is our own apprenticeship scheme. We currently have a job in St Albans with 20 bricklayers whose average age is 25.  Pretty much all of them have been or are apprentices with Flahive. I also still get huge satisfaction from winning work, and that's something I have inherited from my dad. To be honest, it's probably time to pack it in when it doesn't do that anymore!  Of course, sometimes our work runs smoothly but then other times it might be a case of everything going wrong in that particular week. In our work we are talking all the time, and so everyone knows what the other is doing and vice versa. Our work is so interlinked. When you are trying to resource jobs, materials, and labour you need to be talking all the time. Problem solving is something I really enjoy. When you employ about 250 people directly and indirectly, you end up involved in a lot more than just running the company – you must listen to the workforce, and at times be a counsellor of sorts.
When it comes to changes in our sector, health and safety is very different as is PPE, and of course paperwork has increased. A site foreman might spend more time in an office on a laptop than ever before. Mortar silos have made things a lot easier in guaranteeing quality and colour of the mortar. We have also seen high-rise building move away from traditional brickwork, which might continue to be the case because of labour issues.
Architects have always liked brick in differing colours. But if there is a shortage of skilled people, who is going to build it? We also have the challenge of material shortages, particularly cement due to the level of work since Covid restrictions were relaxed. The government is saying 'Build Build Build' but is there enough material and labour to do it?
Attracting the younger generation to the trade is hard, as so many see office jobs as more appealing. I do think that schools could be better able to target young people who are not geared up for university. Some young people might have that extra energy and need to be outside doing things which makes this profession so appealing. We have also found that when younger apprentices go in and talk to students in schools it can be inspirational. Bricklaying is ultimately a career and we still have workers in their sixties on the payroll.
When it comes to our success, I'm never one to pat myself on the back. I simply work hard every day and do my very best. When things go wrong, we tell the truth and don't make the hole any deeper!
What I would say to anyone considering a career in the brickwork sector is that it shouldn't be shied away from. We support our apprentices, nurture them, and give them the skills they need to succeed. It's not about breaking records; it's about turning up and having a good attitude. People will then go out of their way to help. It may not be for everyone but you can learn a trade and go anywhere you want to in the world as a bricklayer.
#YourConstructionStory